If the "Read in English" feature isn't working, please click on the title of the post and try again
Ler em Português
Read in English
«The first in the thrilling Stage Dive series, Lick is a passionate rock n' roll romance from Kylie Scott.Evelyn Thomas's plans for celebrating her twenty-first birthday in Las Vegas were big. Huge. But she sure as hell never meant to wake up on the bathroom floor with a hangover to rival the black plague, a very attractive half-naked tattooed man, and a diamond on her finger large enough to scare King Kong. Now if she could just remember how it all happened.One thing is for certain, being married to rock and roll's favourite son is sure to be a wild ride.»
P.V.P. = 9.49€ || Pago = 6.57€ || Por Ler
«Ela tinha tudo o que uma donzela da sua posição podia querer: era linda e estava noiva do solteiro mais cobiçado da cidade. Um longo e desesperante noivado, porém, levou-a a querer romper o compromisso e a tomar as rédeas da sua vida.
Clio Whitmore está noiva do Marquês de Granville há oito anos, mas ele está sempre ausente no estrangeiro, levando-a ao desespero por não se sentir desejada. Quando Clio herda um castelo que lhe proporciona independência financeira, decide romper o noivado e iniciar uma nova vida.
Para tal, ela terá de convencer Rafe, irmão e procurador do Marquês, a aceitar o fim do noivado. Mas Rafe tem planos para a fazer mudar de ideias, organizando-lhe um casamento de sonho...
Ele começa com flores. Um casamento nunca tem flores suficientes... Ele diz-lhe que ela dará uma belíssima noiva... e tenta não imaginá-la como sua.
Como conseguirá Rafe convencer Clio a casar-se sem se deixar vencer pelos sentimentos que crescem dentro dele, e que são a cada dia mais fortes?
Ele não irá apaixonar-se pela única mulher que nunca poderá beijar nem dizer ser sua. Ou irá?»
P.V.P. = 15.98€ || Pago = 7.99€ || Por Ler
«Maddie é bonita e talentosa, pelo que todos esperam que ela se case em breve. Mas Maddie é muito tímida em relação aos homens, além de ter um medo terrível de espaços públicos e multidões.
Para se livrar de ter de ir a festas e ser cortejada, ela inventa um noivo imaginário: um capitão escocês de nome MacKenzie, muito apaixonado e dedicado, a quem escreve cartas onde revela os seus mais íntimos desejos e anseios. Aproveitando as prolongadas ausências do capitão, que vive convenientemente longe por causa da guerra, Maddie vai conseguindo escapar à pressão de se apresentar à sociedade.
Anos depois, porém, o inimaginável acontece: o capitão, produto da sua imaginação, aparece em carne e osso à porta do seu castelo. Este capitão Logan MacKenzie é um soldado atraente, mas rude e selvagem. E o pior de tudo é que tem na sua posse as cartas de Maddie, aquelas que ela escreveu ao seu noivo fictício, e que contêm segredos inconfessáveis.
Agora, o capitão pretende fazê-la cumprir todas as promessas que ela lhe fez e que nunca esperou ter de concretizar...»
«Dois estranhos...
Makenna James acha que o seu dia não pode ficar pior até que no edifício do seu escritório corre para apanhar o elevador. Enquanto se distrai para atender uma chamada o elevador pára e fica às escuras. Makenna encontra-se assim na companhia de um estranho do qual apenas vislumbrou a tatuagem de um dragão numa das suas mãos antes das luzes se apagarem.
Quatro horas...
Caden Grayson diverte-se com esta linda ruiva tão atrapalhada com a sua mala e o telemóvel. Mas logo a diversão acaba quando o elevador se imobiliza e ele, apesar dos seus piercings, tatuagens e cicatrizes, entra em pânico. Agora está preso dentro do seu pior pesadelo… durante quatro horas. Somente abrindo-se com Makenna é que Caden poderá vencer os seus demónios, da mesma foram que Makenna consegue ultrapassar o seu terror do desconhecido. Aos poucos e apesar da escuridão, ambos acabam por descobrir o muito que têm em comum. Na escuridão a atração e o desejo crescem e os dois não resistem a envolver-se com paixão. Mas, perguntam-se, irão sentir o mesmo quando as luzes voltarem? E quando forem salvos do elevador que os aprisiona o que farão?»
P.V.P. = 11.98€ || Ganho num Passatempo || Por Ler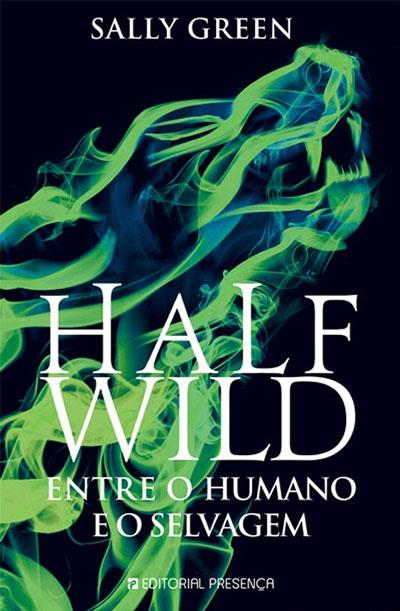 Half Wild
«Nathan consegue finalmente escapar do cativeiro. Depois de encontrar o seu pai e de este lhe oferecer um dom poderosíssimo, o jovem completa os três dons que o confirmam como bruxo adulto.
Contudo, o jovem sabe que ainda não se encontra a salvo e que tem de continuar a fugir. Porque de um lado estão os Bruxos Negros que o odeiam e do outro, os Bruxos Brancos que desejam a sua captura. No meio deste conflito, Nathan tem de conseguir encontrar o seu amigo Gabriel e resgatar Annalise, a jovem que ama e que está prisioneira do temível bruxo negro, Mercury. Mas para ser bem-sucedido, Nathan sabe que terá de aprender a controlar o seu próprio poder…
Half Wild - Entre o Humano e o Selvagem é a continuação do livro Half Bad - Entre o Bem e o Mal, aclamado internacionalmente pela crítica e pelo público.»
P.V.P. = 16.90€ || Pago = 5.00€ || Por Ler
«Qual é a grande obsessão de Lily Fowler?
Cresci com as acusações de ser a mais irresponsável de todas as irmãs, de ser uma tresloucada que garante capas de revistas escabrosas e envergonha toda a família, de ser aquela mulher fogosa e sensual com que nenhum homem quer casar.
A verdade é que me limito a viver cada dia como se fosse o último, procurando respeitar o nome Fowler, mas não deixando de aproveitar a vida. Sou jovem, bonita, poderosa, tenho todo o direito a ser feliz. Se me falta encontrar o amor que as minhas irmãs Violet e Rose encontraram? Talvez, mas não o procuro.
E, certamente, não esperava que a minha viagem ao Havai mudasse tudo. Max Coleman não é apenas um deus do sexo, como nunca conheci antes, ele é um homem-mistério. É a maior obsessão que já tive, com ele perco o controlo.
O amor não respeita regras e mesmo a mulher mais independente pode ser descontroladamente submissa quando apaixonada.»
P.V.P. = 17.69€ || Pago = 5.00€ || Por Ler
«Aos 36 anos, ao terminar uma década de formação como neurocirurgião, Paul Kalanithi foi diagnosticado com um cancro inoperável no pulmão. Num dia era um médico que dava esperança aos que lutavam pela vida, no seguinte passou a ser um paciente que tentava sobreviver. Antes de Eu Partir conta-nos a transformação de Kalanithi, que passou de estudante de Medicina em busca do sentido da vida a neurocirurgião respeitado pelos seus pares. Até que, numa estranha ironia de vida, se viu no papel de paciente e pai de um recém-nascido. Ao enfrentar a sua própria mortalidade, não pôde deixar de se interrogar: o que nos faz querer viver? O que fazemos quando a vida é interrompida de forma tão abrupta? O que significa ser pai quando a nossa própria vida está a fugir? Paul Kalanithi faleceu enquanto escrevia este livro profundamente comovente, contudo, o seu amor pela literatura e medicina levou-o a partilhar as suas maiores inseguranças e receios. Partiu demasiado cedo, mas não sem antes nos deixar este testemunho lírico e extraordinário sobre a condição humana.»
P.V.P. = 15.90€ || Pago = 6.50€ || Por Ler
«A breathtakingly beautiful supermodel disappears from a swimsuit photo shoot at the most glamorous hotel in Hawaii. Only hours after she goes missing, Kim McDaniels's parents receive a terrifying phone call. Fearing the worst, they board the first flight to Maui and begin the hunt for their daughter.
...WILL NEVER BE...
Ex-cop Ben Hawkins, now a reporter for the L.A. Times, gets the McDaniels assignment. The ineptitude of the local police force defies belief--Ben has to start his own investigation for Kim McDaniels to have a prayer. And for Ben to have the story of his life.
...THE SAME FOR YOU AGAIN.
All the while, the killer sets the stage for his next production. His audience expects the best--and they won't be disappointed. Swimsuit is a heart-pounding story of fear and desire, transporting you to a place where beauty and murder collide and unspeakable horrors are hidden within paradise..»
P.V.P. = 38.64€ || Pago = 7.00€ || Por Ler
«Sarah Campbell is a rarity among women in her time. Raised by her Scottish father and the natives of a remote island in the South Pacific, Sarah and her father embark on a perilous journey to Scotland. Their crew betrays them and murders her father for the purpose of selling Sarah into slavery. She is rescued by an unlikely hero, Hassan Aziz, the most feared pirate on the Barbary Coast. She quickly discovers that she is unprepared for the complex world that is suddenly thrust upon her. Sarah must find a way to survive in a world that intrigues and terrifies her.»
P.V.P. = 15.65€ || Livro de Parceria || A Ler
«Giselle Levy é meio-bruxa e vive isolada do mundo com o seu avô, escondida do olhar do rei. É cuidadosa e astuta, contudo, numa tentativa de sobreviver, foi apanhada e chantageada por um dos príncipes de Kendrad, Cristian, que promete não a entregar, se ela for trabalhar para o palácio. Num dilema, ela coloca em perigo a sua identidade e passa a trabalhar no palácio, onde terá de lidar com as constantes tentativas de sedução do príncipe Cristian, os misteriosos olhares de príncipe Eli, os encontros escondidos com o seu melhor e único amigo, Rylan, e um rei desumano com segredos obscuros. Giselle vive numa constante incerteza e angústia de ser descoberta, amargurada pelo facto de não poder ser livre, encontra uma misteriosa sala, com um poderoso encantamento que poderá mudar tudo. Assertiva, inteligente e defensiva, irá deparar-se com uma escolha que mudará para sempre a sua vida e a ideia que tem si própria.»
P.V.P. = 16.00€ || Livro de Parceria || Por Ler
«O Michael, Marquês de Bourne, perdeu tudo o que tinha, com uma só carta: um oito de ouros. Apostou e perdeu toda a sua fortuna e terras numa só jogada e, com elas, a sua reputação. Bourne, nome pelo qual todos agora o conhecem, passou a ser um exilado da sociedade, transformando-se no frio e implacável dono do Anjo Caído, o clube de jogo mais famoso de Londres. Mas ele tudo fará para recuperar o que foi seu.As terras de Bourne acabam por ir parar à posse de Penelope, uma sua paixão de infância. Penelope sofreu a humilhação de um noivado rompido, tendo sido trocada por outra mulher. Por isso deseja agora um casamento que não seja igual a todos os outros: um compromisso por conveniência.
Quando Bourne a rapta e a força a casar- se com ele para poder reaver as suas terras, Penelope aceita sem grandes dramas o desafio, pois sente-se atraída para uma relação diferente, que lhe permita aceder a prazeres inexplorados. Bourne é a senha de acesso aos prazeres desconhecidos por que Penelope anseia. Mas ao mesmo tempo o seu coração deseja que Bourne a ame, tal como ela o ama, secretamente, a ele. Será que Bourne vai conseguir ultrapassar as marcas e os fantasmas do passado e revelar a Penelope o que realmente sente? E estará Penelope à altura do submundo do vício e do pecado em que Bourne agora vive?»
P.V.P. = 19.00€ || Pago = 12.50€ || Por Ler
«Ever had a secret? Something you can't tell anyone in case they think you're crazy.
Tara does – she sees the last moments of people's lives when she touches something that belongs to them.
Kaolin does – she doesn't want anyone to know the truth about what happened to her father.
Now they're both in trouble because secrets never stay quite as secret as we wish they would.»
P.V.P. = 9.61€ || Livro de Parceria || Por Ler
«Harry Potter nem quer acreditar na sua sorte! Afinal não vai ter de aturar os Dursleys até ao início do seu quarto ano em Hogwarts. Graças à taça Mundial de Quidditch vai passar os últimos quinze dias de férias na companhia dos Weasleys e do seu amigo Ron. Mas a verdade é que nem tudo vai correr pelo melhor para o nosso herói. Quando Harry começa a sentir a sua cicatriz a doer terrivelmente, sabe que Lord Voldemort está de novo a rondá-lo e a ganhar poder. A marca da morte, que apareceu no céu, não pode significar outra coisa...Entretanto, este é um ano muito especial para Hogwarts, pois é lá que se irá realizar o célebre Torneio dos Três Feiticeiros, no qual Harry vai desempenhar um papel decisivo e que quase lhe irá custar a vida!! Pela segunda vez, Potter vê-se frente a frente com Voldemort, e ele sabe que o maior desejo do poderoso senhor das trevas é vê-lo morto...»
P.V.P. = 18.90€ || Pago = 5.00€ || Por Ler